ČETRTEK, 15.01.2015
Kadilnica Of Death: Ransom Call (Si)
Orto Bar
Grablovičeva 1, Ljubljana
Začetek koncerta ob 22:30!
Cena vstopnice:
4 €
Za obiskovalce s KOD člansko izkaznico je vstopnica
brezplačna
!
Metal večer v Kadilnici Of Death od 21h do 5h!


V Orto Bar prihaja freakshow v podobi zasedbe
Ransom Call
! Ta petčlanska horror sleaze skupina je vstala iz groba pred približno dvema letoma, sestavljajo pa jo večinoma stari znanci slovenske rock/metal scene, ki so maja 2014 izdali demo
Creatures on the Loose
in minulega decembra še povsem sveži demo
Lobotomized
, materiala pa imajo pripravljenega že dovolj za težko pričakovani dolgometražni studijski prvenec. Obeta se zanimiv šov, ki nas bo popeljal v nostalgična 70-a in 80-a!
Koncert
v zgornji dvorani
Orto Bara se bo začel
ob 22:30
, po koncertu pa vas čaka še afterparty skupaj s člani banda in koncertnemu vzdušju primerno playlisto na metal večeru. Ta se bo kot vedno odvijal
od 21h
pa vse do pozno v noč!
RANSOM CALL
Bio: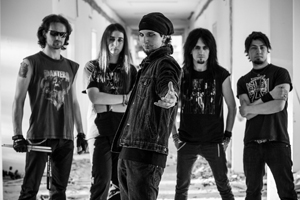 Raised from the grave in early 2013, Ransom Call is a five piece shock rocking act from Slovenia.
From the beginning band keeps writting their own material, which combines raw, heavy sleaze metal with horror punk elements. After some line-up changes, band finally settled down with Danijel "Dani" Zorko on vocals, Klemen Markun on rhythm guitar, Klemen Stular on solo guitar, Darko "Dare" Petrov on bass and Ales "Dime" Korosec on drums.
They recorded their first demo called ''Creatures on the loose'' in May 2014.
Find out for yourself at the freak-shows!
Ransom Call @ Bandcamp
Ransom Call @ Facebook
Ransom Call @ YouTube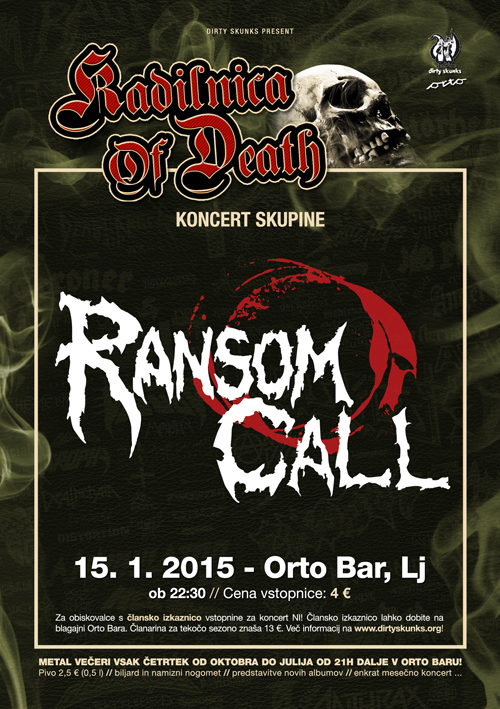 Edited by Gorjanec - 09.Jan.2015 at 12:48