ČETRTEK, 05.03.2015
Kadilnica Of Death: Stripeless Zebra (Si), Eyecontact (Si)
Orto Bar
Grablovičeva 1, Ljubljana
Začetek koncerta ob 21:30!
Cena vstopnice:
4 €
Za obiskovalce s KOD člansko izkaznico je vstopnica
brezplačna
!
Metal večer v Kadilnici Of Death od 21h do 4h!


Kadilnica Of Death se tokrat končno podaja tudi v vedno bolj popularne vode stonerja in sludgea, kar bosta s svojima nastopoma nedvomno dokazali domači zasedbi
Stripeless Zebra
in
Eyecontact
, ki bosta Orto Bar zavili v zasanjano atmosfero.
Stripeless Zebra je mlada blejska stoner/sludge skupina, ki se je formirala junija lani, sledečega novembra pa že izdala svoj prvi EP z naslovom
Stripeless
. Na spletu ste mu že lahko prisluhnili, kaj ta EP in zasedba ponujata v živo, pa lahko preverite na prvi marčni četrtkov večer. Eyecontact prihajajo iz Lendave, band pa sestavljajo izkušeni mački, ki so se predhodno kalili v različnih drugih zasedbah. Začetki skupine segajo v leto 2008, da se je le-ta sestavila v ustvarjalno celoto, pa je bilo potrebnih še nekaj let. Rezultat trdega dela je lani izdani EP
Big Mean Machine
, ki ga bo skupina predstavila tudi v živo v koncertni dvorani Orta.
Vstopnina znaša standardne
4 € oziroma brezplačno s člansko izkaznico
, oba nastopajoča banda pa lahko seveda tudi podprete z nakupom katerega od njunih izdelkov! S koncertom
v zgornjem nadstropju
lokala začnemo
ob 21:30
, metal večer v Kadilnici Of Death pa bo z glasbenim repertoarjem v duhu koncerta kot ponavadi potekal
od 21h pa vse do pozno v noč
!
EYECONTACT
Bio: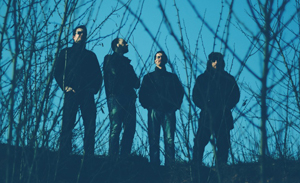 eyecontact is a band from lendava, slovenia. its members originate from different former bands (khons, illusions) that performed years ago in the lendava music scene.
the roots of the band go back to 2008, when the remaining two members of the disbanded group khons decided to continue making music. in 2011, after many years of performing, name and member changes, eyecontact, then as a duo (daniel balažic, gregor naglič), performed with guest musicians, among them attila szunyog, who later became a permanent member (2012).
after a long search, jan franko briefly filled the bass player role, but decided to leave and rejoin his primary band inhibis. his duties were then taken over by teo graj. in little over a year, fruitful songwriting generated more than enough material for a short ep, about to be released in may 2014 at gbtm records.
Eyecontact Website
Eyecontact @ Bandcamp
Eyecontact @ Facebook
Eyecontact @ Twitter
Eyecontact @ YouTube