ČETRTEK, 17.03.2016
Kadilnica of Death: Deck Janiels release party albuma II z gosti Tomcat
Lokacija:
Orto Bar, Grablovičeva 1, Ljubljana
Začetek koncerta v klubu ob 21:30!
Cena vstopnice za koncert:
4 €
Za obiskovalce s KoD člansko izkaznico je vstopnica brezplačna!
Metal večer v Kadilnici of Death traja od 21h do 4h!


V okviru Kadilnice of Death se obeta poseben večer za vse ljubitelje pristnega starega rokenrola, saj s ponosom napovedujemo
release party
nove studijske plošče kamniške zasedbe
Deck Janiels
! Fantje so namreč tekom lanskega leta pridno pilili material in posneli svoj drugi album, ki nosi prikladno ime
II
!
Band, ki se počasi približuje svoji deseti obletnici nastanka, je sceno navdušil že z leta 2013 izdanim prvencem
On the Rocks
ter videospotom za skladbo
Last Days of Paradise
, pod njegovega naslednika, ki bo izšel
na vinilni plošči in v digitalni obliki
, pa so se poleg članov banda pri snemanju podpisali še
Gilian Adam
,
Matevž Kraševec
,
Rado Černe
in
Miha Nedoh
. Miks plošče je prevzel
Borut Žbogar
, mastering pa
Justin Weis
iz studia
Trakworx
v San Franciscu.
Bandu se bo kot poseben gost na bas kitari pridružil
Žiga Jerič
, da pa bo večer še nekaj bolj posebnega, vam bodo Deck Janiels na koncertu
v celoti odigrali obe plati
, kar jim lahko povrnete s podporo izpod odra in nakupom katerega izmed albumov ali drugega merchandisea!
Za ogrevanje bodo poskrbeli njihovi hard'n'heavy prijatelji, v Ljubljani situirani mačji pritepenci z vseh vetrov –
Tomcat
! Zasedba se je pred kakim letom skoraj povsem prevetrila, svežina pa se odraža v novem zanosu, energiji in kreativnosti, ki se trenutno pridno izoblikujejo v prihajajočo drugo studijsko ploščo. Če prenovljenih Tomcat po kakem naključju v zadnjem letu še niste ujeli v živo, ne izpustite te prilike za popravni izpit!
Vrata
zgornje koncertne dvorane
odpremo
ob 21:30
, večer pristnega umazanega old school rocka pa se začne malce zatem!
Cena vstopnice za koncert znaša
standardne 4 € oziroma brezplačno s KoD člansko izkaznico
, vstop na metal večer, ki bo
od 21h dalje
potekal v hali Kadilnice, pa je kot vedno brezplačen! Članske izkaznice so še vedno na voljo na šanku Kadilnice, v zameno za 13 € pa z njimi pridobite brezplačen vstop na vse KoD koncerte do konca sezone.
DECK JANIELS
Bio:
Ideja o nastanku skupine se je kovala kar nekaj časa, band pa se dokončno zbere konec leta 2008. Danes ga sestavljajo Tine Žnidaršič (vokal), Mitja Groznik (kitara), Gregor Vrtnik (kitara), Matevž Kraševec (bas) in Jan Merčon (bobni). Skupina uspešno koncertira po večjih in manjših odrih od rock festivalov do moto zborov. Odlikuje jih energičen nastop na odru, ki razgreje publiko in ustvarja pravo rokersko atmosfero. Leta 2013 je izšel prvi album z naslovom On the Rocks. Na njem pa se nahaja deset skladb, ki s težko rokerskimi zvoki poslušalca ne pustijo ravnodušnega. Leto kasneje izide tudi videospot za skladbo Last Days of Paradise, ki se nahaja na skupininem prvencu. Band se je v 2015 pripravljal na snemanje novega albuma, ki bo luč sveta ugledal 17. marca. Deck Janiels bomo 17. Marca izdali svoj drugi dolgometražni album z naslovom "II", ki bo nasledil prvenec "On The Rocks" iz leta 2013.
Deck Janiels @ Bandcamp
Deck Janiels @ Facebook
Deck Janiels @ YouTube


TOMCAT
Bio: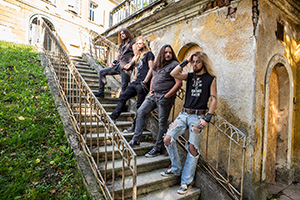 TomCat was formed by ex-members of Glenn Moore, Strock and Cyclone in autumn 2010. The beginning of their story is quite typical -- playing local shows and suffering many line-up changes. Through all this turmoil, TomCat managed to solidify the band with Denis Jambrosic (vocals), Rok Barle (guitar), Gregor Sujica (bass) and Ziga Ravselj (drums) and began writing material for their debut album. When it came to the recording of 'Bits N' Pieces', TomCat chose to work with people their own age. The album was recorded, mixed and mastered in Safe & Sound Studio by Beny Kic and Matej Susnik (both members of Metalsteel, Sabbath Judas Sabbath).
TomCat walk on the thin line between classic hard rock and '70s heavy metal, and at the same they are not hiding the fact they are influenced by big names of the '80s. Apart from that, TomCat showcases sophisticated musical expression, fueled by youthful energy, sincerity, creativity and unbridled life will.
This quarted really don't need hairspray, fancy clothes or glamourous stage names -- just jeans and leather. On 'Bits N' Pieces', they won't bother you with philosophy or teach you how to live, just tell you ten stories about life around them. Actually, about life all around us. Relax, it's only rock 'n' roll and they believe you will like it!
Tomcat had changed its line-up entirely in december 2015 and is working on a sophmore album which is to be released in 2015, featuring a new sound and new look of the band.
Tomcat @ Bandcamp
Tomcat @ Facebook
Tomcat @ YouTube




Edited by Gorjanec - 27.Feb.2016 at 15:27