ČETRTEK, 08.10.2015
Kadilnica Of Death: Otvoritev sezone 2015/2016 s koncertom skupin Morost (Si), Sabathena (Si) in Once Was Never (Si)
Lokacija:
Orto Bar, Grablovičeva 1, Ljubljana
Začetek koncerta ob 21h!
VSTOPNINE NI!
Po koncertu welcome drink v obliki pollitrskega točenega piva na šanku Kadilnice!
Metal večer v Kadilnici Of Death traja od 21h do 4h!
Glasba:
Rope
(Everything Goes, Sweet Sorrow, Demutilated)


Metal večeri
Kadilnica Of Death
v Orto Baru z začetkom oktobra pogumno rinejo v svojo
4. sezono
! Da se ne bi prekrivali z drugimi dogodki, smo letos otvoritev koncertne sezone zamaknili za en teden, tako da se
8. 10.
obeta odlična žurka z
Morost
,
Sabatheno
in
Once Was Never
!
Vstopnine (kot vedno na otvoritvenih koncertih) ni!
Prva se bo ljubljanski publiki predstavila mlada sežanska zasedba, ki sliši na ime
Once Was Never
. Energična peterica preigrava udaren groove/death metal, s koncertom pa napoveduje tudi izid svojega prvega EP-ja z naslovom
Lighthouse in the Abyss
, ki bo luč sveta ugledal dva dni kasneje.
Sledijo staroste slovenske metal scene,
Sabathena
, katerih korenine segajo daleč v leto slovenske osamosvojitve. Skupina je po nekaj letih ustvarjanja padla v komo, iz katere se je zbudila leta 2010, in od takrat dalje izkoristi vsako priliko, da zatrese domačo underground sceno. Osnova njihove glasbe je thrash, začinjen z groovom, vmes pa najdemo tudi elemente heavyja, deatha in dooma. Gre za nadvse zanimivo mešanico različnih vplivov iz različnih obdobij, ki se s svojo pestrostjo usede v ušesa in duha poslušalca.
Z zanimivo in privlačno glasbo pa se lahko pohvalijo tudi letošnji headlinerji
Morost
, ki so se skoraj točno
leto dni nazaj
premierno v živo predstavili v okviru Kadilnice Of Death, kjer so odigrali svoj prvenec
Solace in Solitude
. Od tedaj je šla njihova glasbena pot strmovito navzgor, kar ni nič čudnega, saj gre pri tej relativno »novi« zasedbi v večini za znane obraze preizkušenih in tehnično podkovanih glasbenikov, ki s svojimi stvaritvami ustvarjajo edinstveno koncertno atmosfero.
Ker je dogodek brezplačne narave, vas spodbujamo, da v svojih mošnjičkih prinesete kak cekin ekstra in se obdarite s katerim od izdelkov, ki jih bodo imeli nastopajoči naprodaj, ter tako podprete njihov trud.
Pred in po koncertu, ki se bo odvil
v zgornjem nadstropju lokala
, ste seveda vabljeni na žuranje in druženje v Kadilnici Of Death, kjer bo metal glasba po izboru selektorja
Ropea
(Everything Goes, Sweet Sorrow, Demutilated)
donela iz zvočnikov vse
do 4h ponoči
, po koncertu pa vas tam čaka tudi
welcome drink
v obliki pollitrskega točenega piva!
Na šanku Kadilnice bodo ponovno na voljo
članske izkaznice
za novo sezono, ki vam za ceno borih
13 €
zagotovijo brezplačne vstopnice za vse koncerte v okviru KOD do konca sezone 2015/2016. Teh bo, tako kot vse prejšnje sezone, vsaj 10!
Poleg
članskih izkaznic za novo sezono Kadilnice Of Death
bo na šanku Kadilnice na voljo tudi še
nekaj Dirty Skunks majic
in pa vse druge
vstopnice za prihajajoče Dirty Skunks koncerte po predprodajni ceni
!
Se vidimo!
Razpored:
21:00 vrata
21:15-21:45 Once Was Never
22:00-22:45 Sabathena
23:00-00:00 Morost
21:00-04:00 party w/ Rope
MOROST
Bio: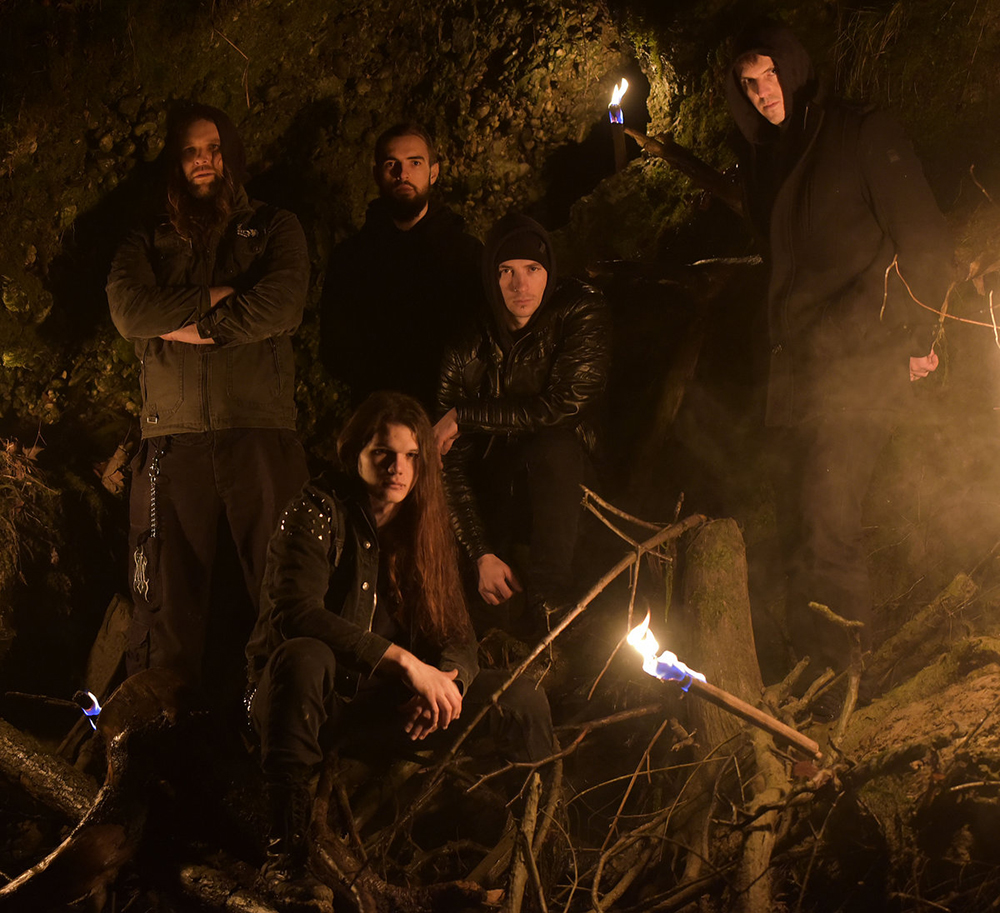 Skupina Morost je bila ustanovljena leta 2010 s strani bivših članov benda Cold Dew z željo po ustvarjanju kompleksnejše metal glasbe. Po nekajletnem obdobju kaljenja v ustvarjanju in nekaterih menjavah v zasedbi je skupina novembra 2012 v Negligence studiu pričela s snemanjem dolgometražnega prvenca z naslovom Solace in Solitude, ki je izšel julija 2014. Band trenutno piše nov material in si nabira koncertno kilometrino.
Morost @ Bandcamp
Morost @ Facebook
Morost @ YouTube


SABATHENA
Bio: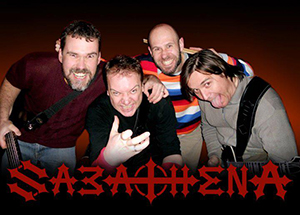 It began: Jani, Babo and Tom dreamed, made dreams alive. Soon to colide with Alex. The twirl of SABATHENA universe lapsed in void though. After a long lapse of void, forces of the universe converged them 3 again, with a new star born, named Marcco.

Born: 1991
Conscious life of 1st stage: 1991 - 1995
Comatose: 1995 - 2010
Conscious life of 2nd stage: 2010 - ...
Sabathena Website
Sabathena @ Facebook


ONCE WAS NEVER
Bio: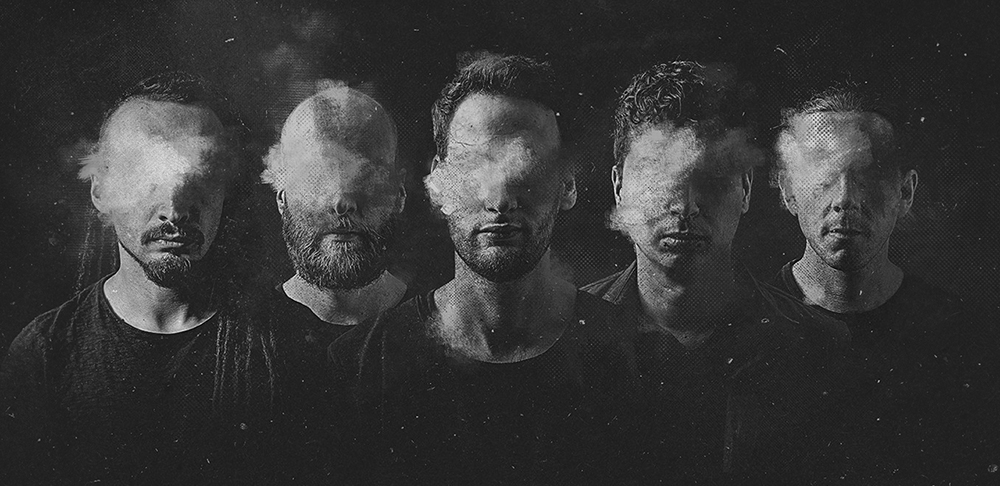 Groove Death metal band from Sežana, Slovenia

Band:
Gregor Ambrožič (drums)
Luka Kralj (bass)
Miha Kosmač (guitar, vocals)
Luka Osojnik (guitar)
Miloš Mihajlović (lead vocals)
Once Was Never @ Facebook
Once Was Never @ YouTube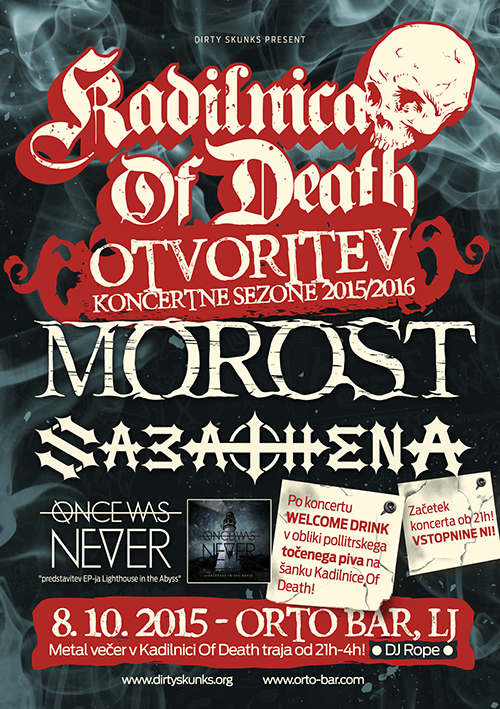 Edited by Gorjanec - 07.Oct.2015 at 14:58