17.DECEMBER 2007....CHANNEL ZERO...METELKOVA...LJUBLJANA
usi k poslušate razne br00talizme u stilu TBDM and such..morte it na to
SHAI HULUD
Gigantski črvi iz puščave planeta Dune se vračajo!! Prvič so se ustavili pri nas že davna leta nazaj v goriških koncih, ko je bila celotna scena in garnitura še čisto drugačna kot je danes. Drugič so se ustavili spet v goriških koncih na enemu izmed zadnjih festivalov City Of, kjer so dokazali, da nekateri bandi iz starih časov v sebi še vedno držijo tisto, kar mora pravi hardcore band vedno imeti.
Od takrat do danes je preteklo ogromno vode in peska, čeprav je takratna booking agencija propagirala tisto turnejo kot zadnjo v zgodovini banda, so samo zamenjali pevca Geerta Van Der Velda, najprej so še nekaj kolebali glede spremembe imena v The Warmth Of Red Blood, ampak so se na koncu odločili, da ostanejo pri prepoznavnem Shai Hulud pečatu.
Band zagotovo spada v še živeče legende svetovne hardcore scene. V času svojega obstoja so izdajali na vseh možnih tipih založb, od hardcore klasik Good Life, Trustkill ali Revelation pa do metal velikanov Metal Blade. Vsekakor jim menjava založb ni vzela tiste ostrine zaradi katere so postali tako znani. Nepredvidljivi metalcore v najboljši možni obliki, ki vas nikoli ne pusti zdolgočasene ob stokrat slišanih riffih, ampak vedno prinese ven nekaj novega in dobrega in to v družbi najbolj čutnih in doživetih besedil, ki se jih v današnji hardcore sceni, kjer največ pomenijo črna oblačila in črni make up, vsekakor zelo manjka!
(slika iz zadnjega koncerta v Sloveniji - City of... 2004)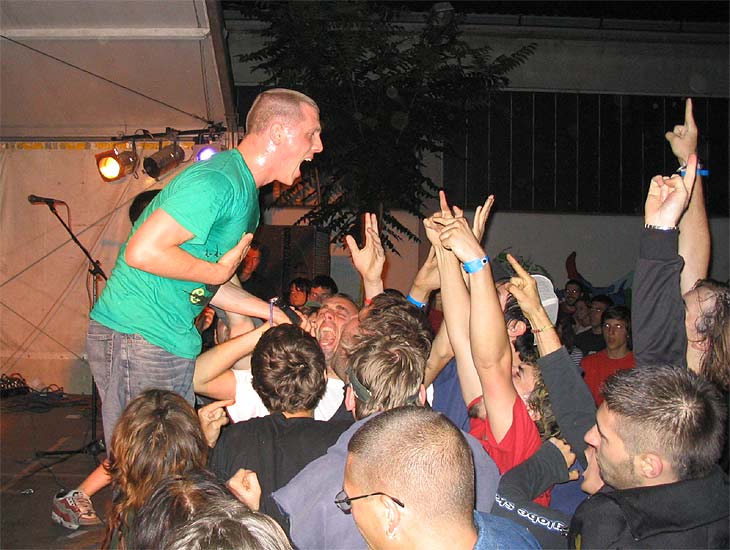 WINDS OF PLAGUE
Najbolj samosvoj band te turneje! Medtem ko prejšnja dva benda plujeta med hardcorom in metalom, se Winds Of Plague ne dajo in pičijo totalen metal. In to s klaviaturami! Fantje ne delajo nič na pol in vse tako kot je treba. Pričakujte brutalen death metal brez nepotrebnih delov, od Cannibal Corpse pa do Suffocation. Še en dokaz, da za to, da igraš metal ne rabiš dolgih las in corpse painta. Če vam doma dlake pokonci stojijo ob Between The Buried And Me, Suffocation ali Bleeding Through, potem je tole definitivno za vas!
DEAD HEARTS
DH so sorazmerno mlad band, ki je hitro opozoril nase in pristal na Trustkillu, kjer so eden izmed bandov, ki še nekako najbolj ostaja blizu hardcore punk koreninam s katerimi je dotična založba sploh zaslovela.
Svojo identiteto gradijo na besedilih s katerimi bi se lahko poistovetil vsak in na počasno-hitrih pesmih, ki se izmenjujejo in s tem gradijo določeno atmosfero, ki je zaznamovala zadnjo ploščo Bitter Verses. S svojo glasbo največkrat spomnijo na Modern Life Is War in podobne bande.